Our Lean UX Process
We understand that creating the optimal client experience puts the end-user at the heart of the design and development process. We take a research-based approach to identify who your clients are and what it takes to engage them online. Throughout our consultation process, we work with you and your team and expand into disciplines such as interaction design, human factors engineering, consumer psychology, sociology, computer science and graphic design.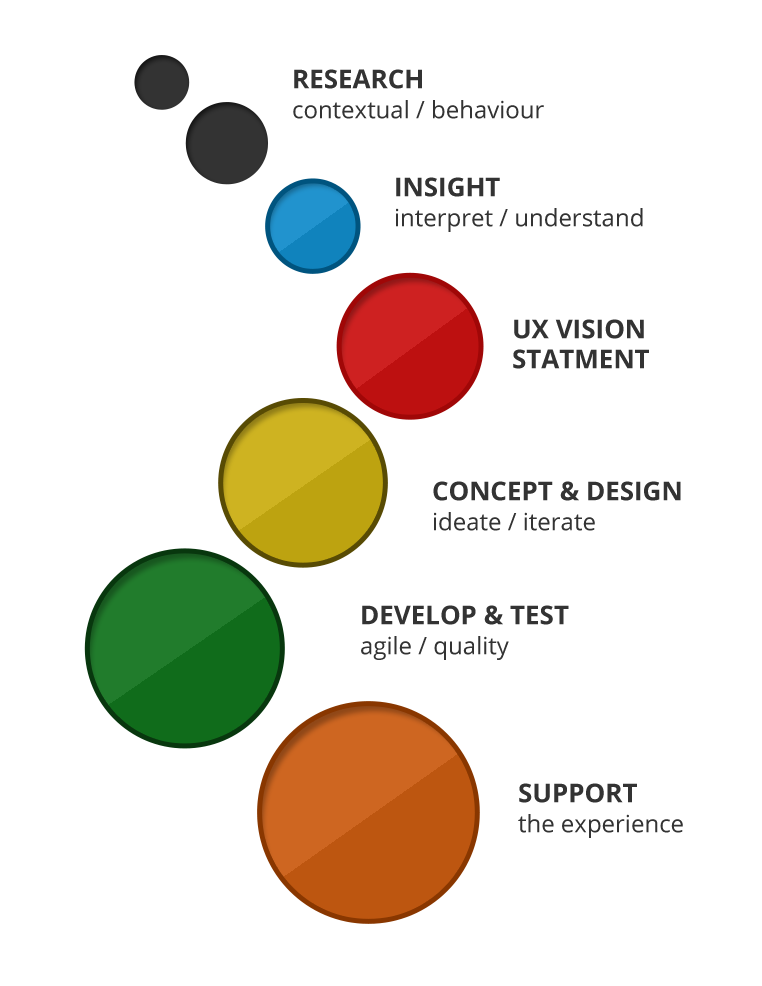 01. RESEARCH
In this phase, we start by understanding the business context and gaining an appreciation for the key target market of your product or service. During this cycle, we try to wrap our heads around the situation by gathering as much information as possible about your business and customers. Our team will also provide answers to questions you may have regarding device visibility, risk assessments, server-side requirements, and timeline estimates.
hehe

02. INSIGHT
Our focus now is to extract information from the data provided, transforming it to create opportunities and possible behavior patterns. Here is where affinity diagrams & sketches are made for us to see the connecting dots. We'll analyze user behaviors & habits to get an understanding of what triggers are best for success. This phase is crucial as it sets the path going forth, and that's why we invite the entire team to participate so no great ideas are missed.
VISION STATEMENT
With so much information, it can sometimes be hard to determine what is most important. We, therefore, construct a vision statement that defines the intended experience. This statement clarifies the problem and reinforces the reason for why the project was launched in the first place.
03. CONCEPT & DESIGN
Using all the insights we uncovered from the previous phase we now start to explore different ideas using wireframes & other UX methods. Refinements are made and validated across our team, your executive team and potential users. Visual & interaction designs are proposed from low to high fidelity. Our highly skilled & creative design team will define the wow elements designed to intrigue users.

04. DEVELOP & TEST
Our dream team boast skills in HTML5, CSS3, PHP, MySQL, ASP .NET, AJAX — to get any project done to spec. We're experienced in integrating across various third-party services such as social media (Twitter, Facebook, Google+, linkedIn), Flickr, Google Analytics & several industry-specific services. We can also build an API for your application so others can plug into your service. Following agile methodologies ensures that components are quickly built & tested to ensure your web app is secure, fast & easy to use.
05. SUPPORT
From day one, Techlicity has been providing post-implementation support to our clients to ensure their solutions continue to align with business goals. Be at peace knowing that your company's website or mission-critical web app will continue running smoothly so you can focus on growing your business. We provide either a planned monthly fee or an hourly rate. Inquire to find out which best suits your business & project needs.